A LIGHT IN THE DARK
For Rhonda Mercs, realization came in the form of a seventh grader's question.
Mercs was leading a school group discussion on self-esteem, and one of the girls innocently asked, "Miss Rhonda, how long was your husband in jail?" When she explained that her husband had never been incarcerated, "they were all shocked," Mercs said. She immediately changed the direction of the session, focusing on ways to help students envision a better future and make positive changes in their lives.
As director of the Urban Child Development Resource Center (UCDRC), Mercs oversees a team of counselors and social workers providing services in urban Catholic schools. Working in communities ravaged by some of the region's highest rates of poverty, crime, and substance abuse, Mercs and her colleagues have to be creative and understanding in order to reach those most in need.
"We just meet them where they are," Mercs said. "We don't have any expectations." Since its founding in 2002, UCDRC has evolved to serve more than 1,400 children in six local schools today. The organization offers everything from observation, consultation, screenings, and referrals, to proactive programs focused on violence prevention, personal safety, emotional and leadership skills, and staff training. UCDRC team members can also provide individual, group, and family counseling, as well as crisis intervention.
"One of our biggest goals is to eliminate these non-academic barriers to learning and education," said Amy Theodor, a counselor with UCDRC. "Maybe you'll see a single mom with four kids who's trying to keep it together, keep a job, keep a roof over her head, and food on the table." When parents and guardians are doing all they can to provide basic necessities, a child's struggles with mental health may not stand out. Even if children are diagnosed, the situation can seem overwhelming, and getting treatment may be difficult.
"We eliminate that barrier," Theodor said, "because we provide that right here in the school." Counselors in the schools see the students every week, spend time in the classrooms, and communicate regularly with teachers, making it much less likely that issues students are experiencing will go unnoticed. For students who need support, UCDRC staff can provide it quickly, and from a trusted, familiar source. When outside services are required, team members know what resources are available in the community and can help connect families to them.
Reaching these children in need is vitally important, given the challenges confronting them. "A lot of it is related to trauma or neglect, or they've seen or heard violence," Theodor said. "Who wouldn't be on edge the majority of the time if they fear for their safety?" Theodor recalled a student she observed whom the teacher suspected of having ADHD. "Come to find out, Dad recently got out of prison," she said. "It was for drug charges and domestic violence, and (the boy) saw some really scary things. Coincidentally, this same kid, his uncle was in the news recently after being killed. So trauma upon trauma." When she worked in the schools, Mercs said, "I would do a lot of grief groups because a lot of the children have experienced so much loss."
Parents are in a similar situation, confronting many of the same pressures and sometimes battling mental health issues of their own that may be undiagnosed and untreated. "A lot of these things do get passed on," Theodor said, "it's biological, some of it: genetic. Some of it's based on lifestyle and neighborhood. And it does go generation to generation."
In addition to appreciating the depth and complexity of the issues so many families are facing, Mercs and Theodor understand that their work may take years or decades to reveal its full impact. Even so, there are many success stories and bright moments to celebrate amid all the difficult work.
Mercs remembers a "young man who was very talented. His uncle was trying to teach him how to cut crack to make money. He knew he had talent, but it was a lot of work to go to college. Well, he's playing basketball in a well-known university right now."
In some cases, UCDRC staff may not realize what a difference they are making. Theodor cited the example of a student she worked with for weeks and months, feeling unable to reach or help him despite her continued effort. "In the end," she said, "he wrote and said, 'Thank you for being the light in my dark.' We're the only stable things they have going sometimes."
That's why the team continues to do everything they do, come what may, Mercs said. "Our goal is to help as many kids and families as we can."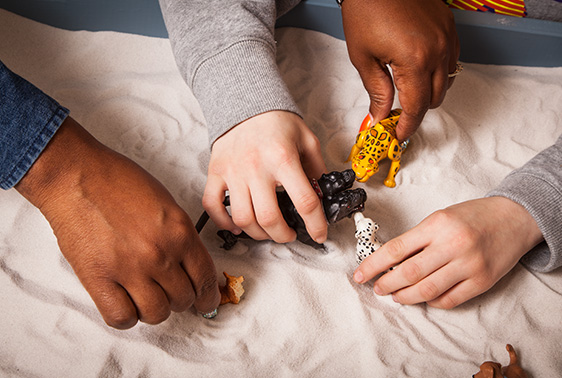 "We just meet them where they are. We don't have any expectations."
—Rhonda Mercs