The Work of a Lifetime
When preparing for success in college and careers, it pays to start early—ideally before kindergarten.
This unusual idea is uniting a diverse group of educators, community leaders, organizations, and individuals who share an ambitious vision for the future of the Dayton region. Ultimately, Learn to Earn Dayton and its partners hope to increase the percentage of adults earning a college degree or professional credential, preparing more citizens for productive, healthy, and fulfilling lives. Achieving this goal involves working with today's college students and recent high school graduates, but it's also essential to take a broader view and intervene much earlier.
"The way we used to think about this in a community, you would attack the graduation problem," said Tom Lasley, executive director of Learn to Earn. "You would put all sorts of strategies in place to address this. In the meantime, all of the problems that were contributing just kept occurring." For example, Lasley explained, "Third grade reading proficiency is the number one predictor of whether you're going to graduate from high school and go to college. And we know that kindergarten readiness is linked to third grade reading proficiency."
The scale of the challenge at each stage makes it natural that those striving to make a difference would focus largely on the immediate need, without considering the underlying causes or looking far ahead. "It wasn't that people were not working hard," Lasley said, "but they were only seeing one little piece. It's like being in a hospital doing triage, and people keep coming in with broken legs. You keep fixing the broken legs, but you don't realize that 90 percent are because people are falling into a hole on the street. Why not fix the hole?
"We think if you approach it systemically, you're going to be more likely to impact the numbers." To that end, Learn to Earn has identified key points in a young person's life and education that are, according to data, crucial milestones on the path to success—or struggle. The organization has shared its findings with a wide range of organizations and individuals across the region, and many have agreed on the need to intervene at these critical points in a coordinated way.
For example, many school districts in Montgomery County are participating in a program known as Graduation Alliance. From areas currently struggling with high rates of poverty and low graduation rates, to those ranked among the highest-performing in the state, these districts have agreed to take key steps to provide additional services to students who have dropped out. The goal is not only to help them graduate, but also to assist with college applications, enrollment, and successful career paths. "It's incredible," Lasley said of this broad-based coalition. "That's really unique, for all of them to stand there and say, 'Yeah, we're behind it.'"
Beyond the Graduation Alliance, he said, many more organizations have embraced a shared vision and are striving to ensure their efforts have a lasting impact on large scale. "I do think there's been alignment," he said. "People have gravitated toward these key points in trying to make a difference."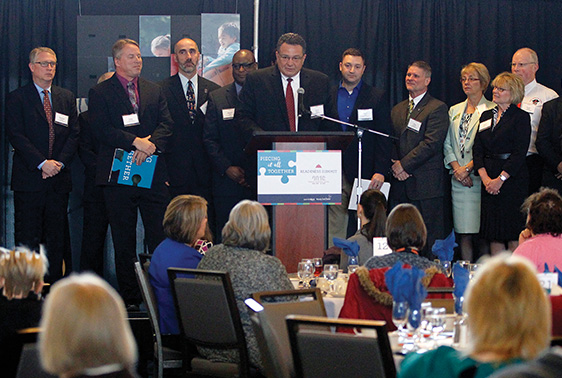 "We think if you approach it systemically, you're going to be more likely to impact the numbers."